Monthly Archives:
March 2017
Time          Sunday 1:00 to 4:00
Location    Shidler College, University of Hawaii at Manoa – Room A-101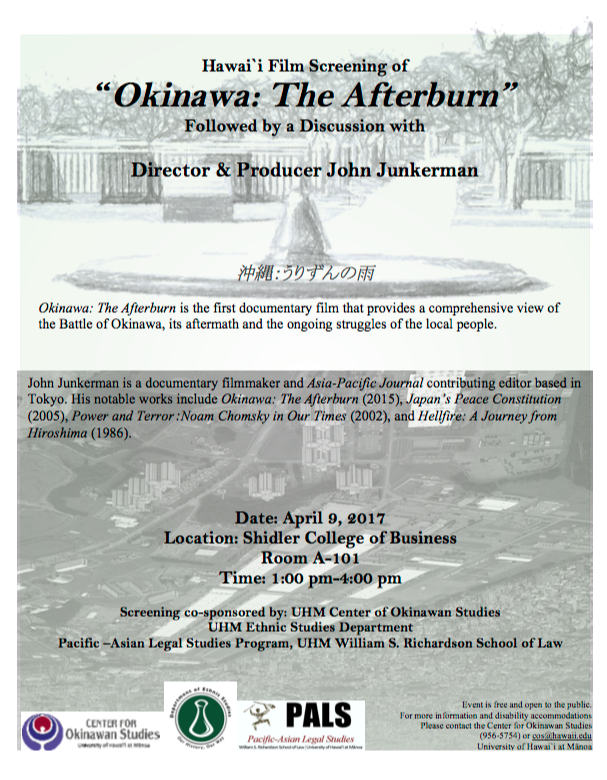 Reviews
Japan Times by Mark Schilling (brief)
EMRO (Educational Media Reviews Online) – by Joseph Baumstarck (detailed)
On 11 March 1879, King Sho Tai was forced by Japan to vacate his throne, leave Shuri Castle, and relocate to Tokyo.
In January 1879, 160 military police and 400 soldiers from Japan seized control of the Ryukyus.  In February 1879, China through formal diplomatic communications urged Japan not to unilaterally annex the Ryukyus.  On 18 March 1879, Nabeshima Naoyoshi was installed as the first governor of Okinawa Prefecture.  This annexation is known as the Ryûkyû shobun (琉球処分).
Matsuda Michiyuki returned to Ryûkyû in January 1879, and again in March, this time bringing with him a considerable entourage including 160 military police, and 400 soldiers from the Kumamoto Garrison. In February, Beijing sent diplomatic communications formally urging Tokyo to not unilaterally annex the Ryukyus. On March 27, Matsuda presented to Prince Nakijin the formal document declaring the abolition of the Ryûkyû Kingdom and the annexation of its lands as Okinawa Prefecture. King Shô Tai was given until March 31 to vacate the castle and leave for Tokyo; there, he would officially submit to the Emperor, be stripped of his title as "King" (or, by this time, han'ô), and be absorbed into the Japanese peerage as a Marquis (kôshaku). The king did so on March 30, and Japanese authorities immediately took over Shuri castle, installing a military garrison there.  Source
The Kingdom of Hawaii would share a similar tragedy in 1893 when Her Majesty Queen Lili`uokalani was forced by Americans to vacate her throne.  The Hawaiian islands were annexed by US Congress in 1898 against the express wishes of the overwhelming majority of the indigenous population and without a referendum of any kind.  Today both islands bear the burdens of military occupation and mainland colonialism.
Address     One Ala Moana Condo                     Location    Party and Vino Room
Date           Tuesday  14 March 2017                  Time           6:00 – 8:30 p.m.
Parking      Park at Ala Moana Shopping Center 4th floor at the old Nordstrom's garage. take elevator down to 1st floor, walk over to One Ala Moana, and check in with guard.
Costs           $20 for members and guests, $10 for Akisamiyo! members